Bookstores are different from libraries and libraries should not feel the need to compete – or be judged - in comparison. Libraries have their own special strengths – the breadth of their collections, the variety of titles, the free access to information and leisure reading material.
While it's great to celebrate these unique qualities, it is also good to embrace what is useful from the retail sector, adapt it to suit our needs and make it work to our advantage.
Library patrons are shoppers – from the youngest to the oldest. Their choosing techniques are influenced hugely by the way they operate within the retail world. Libraries can and should learn from this 'shopping behavior'.
US retail guru, Paco Underhill, provides us with many useful examples of 'shopping behavior' in his book Why We Buy – The Science of Shopping. But there are two statistics which seem particularly relevant to those of us working in the library world:
50% of people buy the first thing they touch
72% of purchases are made on impulse
So how can libraries 'cash in' on this universal truth about the way human beings make choices?
You might answer – but it's not our job to sell stuff. Our core offer is the loan of books and the encouragement of reading. Indeed – but our task is to ensure we help customers of all ages using our libraries to find something satisfying to read. To support people in this quest, we must open up the choices available to them in the library in a way they find tempting, visible and easy to access. We need to help them find something they want to take away. That means they leave the library a satisfied customer and we can raise our circulation figures (and justify our existence).
Here are four essential retail techniques that will help us achieve this aim.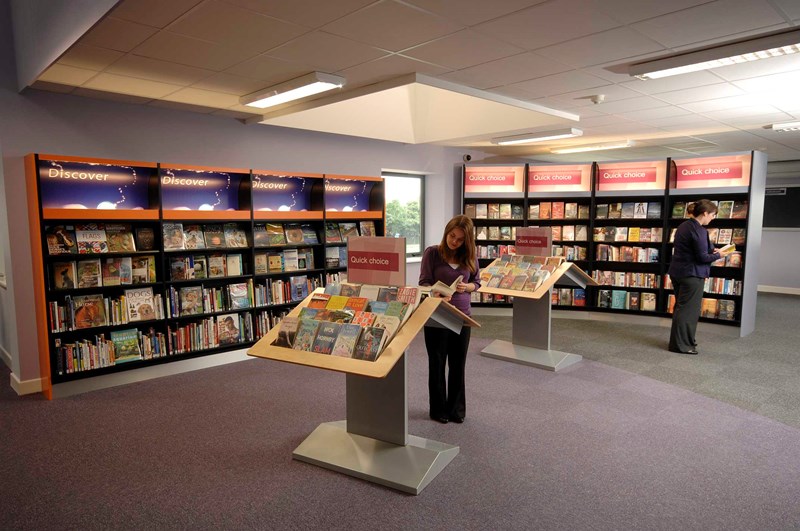 Location
Retail stores identify display hotspots for maximum product exposure. These promotion spaces generate high return in terms of items sold. In a bookstore, publishers will pay big money to get their titles on these display stands. So how do you find your library's 1000-dollar display space?
Choose a place which is close to the entrance and highly visible to people coming into the library. It is worth observing this space for a short while, so that you can identify the best location for your display. Choose a spot where patrons, students and children have slowed their walking pace, paused and are receptive to their immediate surroundings. When you set up your display stand – make sure there is plenty of space surrounding it so people can browse in comfort. Angle the stand so that any face-forward book covers are pointing in the direction of in-coming traffic.
By doing all these things we make it easy for people to stop and pick up books. And as Paco Underhill tells us – if they touch, they are much more likely to take it away.